Posing Tips
[ A few things to remember when taking photos ] By Sara croft and Lisa Byrne-Erickson
– The mirror is your best friend, and the best tool for you to practice your poses and facial expressions, you need to do it prior to any photo shoots
– For most Lara Croft shoots, you are always holding guns, an axe or a bow, when drawing them, make sure you are looking in the direction from which you are shooting.
– Always shoot your best side, everybody has one, it's a fact, so make sure you use it
– Shift the body's weight to the straightened back leg and bend your front knee when posed photos when not holding guns
– Even slimmer ladies have issues with arms, make sure to pose with arms pushed back and when holding guns make sure your arms aren't up near your face, just relax and hold them up
– Make sure that you take pictures from angles where your jaw is defined, if you naturally don't have a defined jaw line, have your photographer take pictures from a higher angle
– With Tomb Raider shoots , Make sure nothing inappropriate is showing like when wearing shorts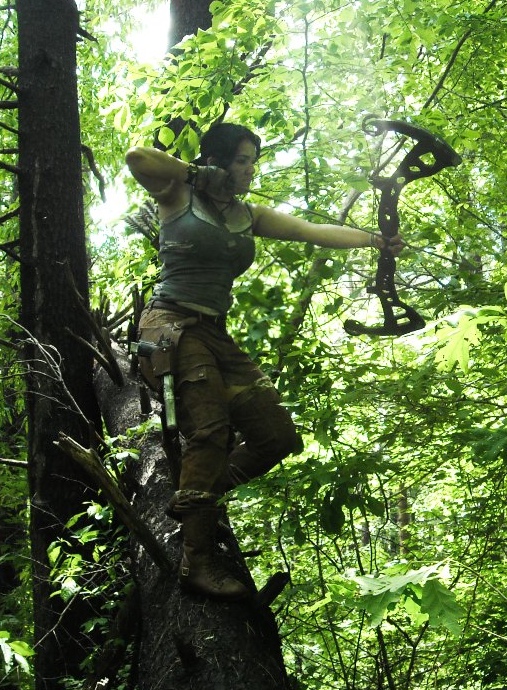 – Do not smile, Lara Croft rarely smiles in renders, so you want to be in character, to make your pictures look more authentic
– Move… It is better to take many photos from different angles so you find the few that you love , rather than take a few and hate all of them, even if it's a small movement, you might like it better because of how your body looks
Every one of you ladies and gents out there is different, and have strengths and weaknesses, make sure to use your strengths to your advantage, don't force yourself into a pose that Lara does if it makes you look bad.
Unless you are recreating certain Lara Croft renders, make sure not to look at the camera, It is important because a lot of what Lara does is out in the wilderness and you want to ignore the camera for most of your photos
If you are shooting in direct sunlight, it's good to experiment with the using the flash, it will help brighten up your face. From experience when I've taken photos outdoors, say around midday, when the sunlight is directly overhead it tends to cast weird shadows on your face, like under your eyes and nose. The flash will
help brighten up those areas (although if you're using a manual camera and use this technique, might want to set the make extra adjustments to the shutter speed and aperture so the picture isn't blown out.
For close ups of the face from a straight on shot, try to have your head out forward away from your body, it will feel a little awkward but its a good way to avoid the double chin, and it won't look awkward in the photo.
Tell the person that's taking your photos to shoot from close up. One of the biggest newbie mistakes is to shoot from far away and get lots of the background in the photo.
Most of all, unless you are a professional, and getting paid for it, have fun and don't take it so seriously, cosplay is just a way for us to express our love for Lara 🙂