Reference: 
What you need: 
Begin by covering the fletchings with masking tape so you don't get any paint on them. If your arrows are already brown , you may skip this step.

Paint the arrow completely brown.

Next paint the fletching black and white and the nock a dark gray.

For the arrow that you use with the bow, cut a piece of worbla (2 x 2 inches) , heat it up and wrap it around the end.

While the worbla is still hot, cut it into two in the lower end.
Now make two leaf shaped pieces of worbla. (approx 1.5 x 1 inches)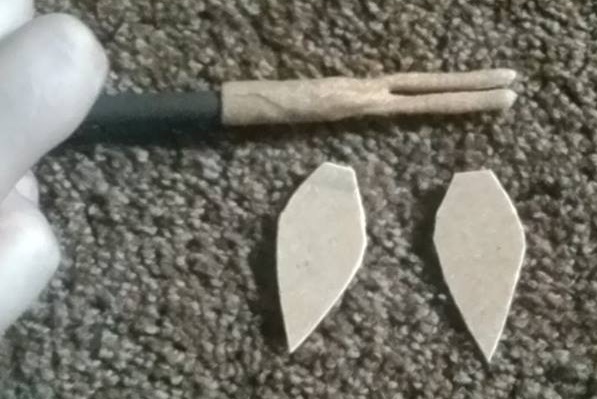 Glue the two arrow heads together like so:

Heat all the parts again and put the leaf shape in between earlier cut arrowhead.

Sand it down to refine it and cover the shaft with masking tape to paint it silver.

Lightly add black to make it more realistic.

Next add a piece of leather twine next to the arrowhead, and secure with hot glue.

And you're done! now these are ready to be put into your quiver.